SOLD OUT!
Tour Escorted by Edna Carroll
Itinerary
Day 1, September 19, 2023
We will depart Mississauga early in the morning stopping in Woodstock and London for a pick up on our way to Joliet Il. We will be stopping at one of my favorite quilt shops, Country Stitches in Lansing Michigan before arriving at the Harrah's Joliet Hotel late in the afternoon, where we will be staying for the night. Tonight we will enjoy a meet & greet dinner at the hotel. (D)
Day 2, September 20, 2023
After a hot buffet breakfast for our group we will be departing the hotel and be on our way. Lunch will be on the Mark Twain Riverboat, then after we will enjoy a cruise up the mighty Mississippi. This historic town is the home of Mark Twain, where he wrote his famous novels. This is also the home to the Hickory Stick quilt shop and Bits & Pieces quilt shops as well. You will have a few hours to explore the quaint shops in Hannibal. Later in the afternoon we will arrive in Chillicothe at the Comfort Inn & Suites where will be staying the next 4 nights. (B, L)
Day 3, 4 & 5, September 21-23, 2023
Everyone will be excited today as you will have the nest 3 days to explore all the quilt shops in Hamilton Missouri, home of Missouri Star Quilt Company! This is the Disney Land for Quilters and there are plenty of games, prizes & giveaways at the birthday bash! These 3 days we will be attending events at the birthday bash and the Quilt Museum in Hamilton. (B,)
Day 6, September 24, 2023
After breakfast  we will board the coach and head to Branson Missouri. Our lunch stop today will be in Springfield Missouri where you will have time to shop at Joann Fabric & Craft Store. We will arrive at the hotel in Branson late in the afternoon. (B,D)
Day 7, September 25, 2023
Today we will visit the fabulous Quilts & Quilts Shoppe. This afternoon you will be able to visit the waterfront, with it's quaint shops. Tonight we will enjoy dinner at one of the local restaurants then we are off to enjoy one of the many shows in Branson. (B,D)
Day 8, September 26, 2023
This morning you will be able to visit the Outlet Mall or another shopping location. This afternoon we will be off to see one of the many shows. Tonight we will be dining at Keeter Centre! This is the fabulous College of the Ozarks, where students learn to be chefs and serve us a wonderful dinner. Then after dinner we will be off to be entertained at another fabulous show.(B, D)
Day 9, September 27, 2023
We will start our journey home stopping in Indianapolis for the night. (B)
Day 10, September 28, 2023
We will arrive home late in the afternoon or early evening. (B)
B-Breakfast, L-Lunch, D-Dinner
Amazing Tour Price
Priced per person in CDN Dollars
Double Occupancy—$2599.00
 Triple-$2299.00
 Quad-$2199.00
 Single-$3200.00
 Price includes taxes.
Shows and restaurants could change depending on availability.
Dates
September 19-28, 2023
Deposit of $400.00 at time of booking.
Payable by cheque to TravelOnly, e-transfer or credit card. Payment in Full after June 1, 2023
If paying by e-transfer please contact Edna for instructions.
Price Includes
Accommodations
Transportation
8 Breakfasts, depending on covid-19 restrictions, 3 Lunches, 3 Dinners
Surprise Event with Jenny Doan, plus one more event, Entrance to the Quilt Museum, 3 shows in Branson, River Boat Cruise on the Mississippi.
Book Now! 
To reserve your place, please contact:
Edna's Travel/TravelOnly
Phone: 519-468-0129
Email: ecarroll@travelonly.net
TravelOnly Corporate Office
325A West St.
Brantford, On., N3R 3V6
Phone: 519-752-4363
www.travelonly.com
TICO #04316071

Tour Escorted by Edna Carroll
Itinerary—January 4-15, 2023
This is a wonderful cruise for everyone, whether you quilt or not. We will be cruising to one of the man made wonders of the world, the Panama Canal. Enjoy all the ports of call and this beautiful ship, the Eurodam, on the sea days or if you are a quilter take in the Quilt Program at Sea hosted by K&A Quilt Studio! K&A will provide all the Husqvarna sewing machines so there is no need to worry about getting yours on the ship.
Full Itinerary 
January 4, 2023
Today we will embark this beautiful ship Eurodam in Port Everglades, Fort Lauderdale. The ship will depart at 4:00PM. There will be plenty of time to explore the ship and see all that it has to offer.
Day 2 - January 5, 2023
 Half Moon Cay, Bahamas
All Bahama Islands are full of tropical wonders and sun-kissed beaches. But Half Moon Cay, Holland America Line's private island in the Bahamas is an absolute stunner. We're not the only ones enamored with our crescent-shaped slice of heaven—Half Moon Cay is the highest-rated Bahamas private island. It has won Porthole Cruise Magazine's Best Private Island award consecutively for 20 years and garnered the best in Travel Weekly's Readers' Choice Awards. When you feel the sugar-white sand on your toes or see its brilliant blue lagoon, you'll understand why cruise travelers love Half Moon Cay. True bucket-list excursions, secluded cabanas, and stunning beaches make it ideal for any type of vacation. 
Day 3 - January 6, 2023
Day at Sea
Today is day 1 of the Quilt Program at Sea with K&A. If you have signed up for this program you will be sewing a table Sewing Bitty Bag to get used to the new Husqvarna machines then starting your Lets-Go-to-The-Beach Bag. 
If you are not a quilter you can take in all the activities the ship has to offer or find a comfortable lounge chair and relax and take in the view.
Day 4 - January 7, 2023
Aruba
Located off the coasts of Venezuela and Colombia, the windswept Dutch island of Aruba feels like another world. When you take a cruise to Aruba, you can relax in the shade of a swaying Divi Divi tree on a pristine beach or explore untamed coastal cliffs in an exotic landscape filled with cacti. Just one day on an Aruba cruise can lead to a lifetime full of stories.
Day 5 - January 8, 2023
Willemstad, Curacao
There is so much to see and do on our cruises to Curaçao. This precious island has a good mixture of history and modernism which all of our guests can truly enjoy. The capital of Curaçao, Willemstad, is almost as old as a more famous Dutch settlement—it was founded in 1634, just 10 years after New Amsterdam, later called New York. But while the Dutch control of New Amsterdam was relatively brief, Curaçao remains a part of the Netherlands to this day. Our Curaçao cruise takes you to its historic center which is a unique mixture of Dutch architecture and Caribbean pastels, its gabled row houses overlooking Sint Anna Bay, a waterway dividing the city in two and connecting the Caribbean to the protected Schottegat Bay. The entire historic center of Willemstad has been recognized as a UNESCO World Heritage Site. While Willemstad's legendary days of yore can be explored at institutions like the Kura Hulanda and Curaçao Maritime Museum, this is a vibrant, living city too. Our Curaçao cruise highlights this multicultural melting pot which might include a stop at its floating market and a visit to a Curaçao distillery to taste the famous local liqueur. Natural wonders await as well: Some of the Caribbean's most stunning diving and snorkeling spots are here. Finally, a meal in Willemstad will let you experience the diversity of the island through the surprising flavors of its cuisine, which reflects European, Caribbean and Latin American influences.
Day 6 - January 9, 2023
Day at Sea
Day 2 of the Quilt Program at Sea, with K&A Quilt Studio, for the quilters on board.
If you are not a quilter you can take in more of the activities the ship has to offer or find a comfortable lounge chair ad relax and take in the view.
Day 7 - January 10, 2023
Cartagena, Columbia
Its official name is Cartagena de Indias—or "Cartagena of the Indies"—but call it Cartagena for short. The formal name hints at this Colombian city's colonial relationship with Spain; it was founded in 1533 and named after the mother country's Cartagena. Colombia declared independence in 1810, but there's plenty about its fifth-largest city that evokes old Spain, including the impressive fort of Castillo San Felipe de Barajas, and the wall that encloses the old town, one of the few intact structures of its kind in the Americas. Both were considered important enough to inscribe on UNESCO's list of World Heritage Sites in 1984. They may be historical artifacts, but the fortress and wall aren't merely tourist attractions; they are central to daily life here. Take a stroll and you'll see couples sitting atop the wall, locked in passionate embraces; parents watching their children walk it like a balance beam; and friends chatting while enjoying the Caribbean breeze. Along with history, there's cultural and culinary intrigue here, too. This colorful city was a muse of the late Nobel Prize–winning writer Gabriel García Márquez, and is increasingly being recognized outside Colombia for its cuisine, which takes many cues from Caribbean ingredients. (Don't leave without trying the coconut rice.)
Day 8 - January 11, 2023
Entering the Panama Canal, Gantun Lake, Colon Panama
Think of the Panama Canal, and the image that may come to mind is of the world's huge tankers and cruise ships passing through a series of locks. That, however, reflects only one aspect of this part of the world. As ships travel from the Atlantic to the Pacific, they also pass colonial towns, historic fortresses and manmade lakes that are today home to sanctuaries for hundreds of different animal and plant species. At the Atlantic entrance to the Panama Canal, Colón evokes the old Panama of yesteryear, with its historic buildings gradually being restored. Some 77 kilometers (48 miles) to the south, at the canal's Pacific entrance, Panama City's glittering skyline of office towers and condominiums reflects the country's dynamic present and future. Traveling between these two cities, an epic tale unfolds before you—an old-school feat of engineering, ambition and courage. As David McCullough recounts in his sweeping history The Path Between the Seas, it was a combination of sheer human might and engineering prowess that today allows ships to cross the Panama isthmus, saving sailors from making the dangerous, almost 13,000-kilometer (8,000-mile) journey around the tip of South America. 
In recent years, a Panama City building boom has invited the inevitable comparison to Dubai. Miami might be more accurate in terms of the skyline, but either way a mighty impressive transformation has taken place in a city that was once known primarily for one thing, the canal. And the forward trend continues with the 2014 opening of a metro line and major new green spaces. With English widely spoken and a U.S. dollar-based economy, Panama is an easy place to visit, which helps account for the enormous number of American citizens now living there.
Dating to 1519, Panama City holds the distinction of being the Spanish Crown's first city on the Pacific. Gold, silver and treasures plundered from all the Americas were transported across the isthmus and sent back to the Old World. Panama City prospered big time for centuries, so today's boom is really a sequel. The great news for preservation-minded travelers is that, despite the rapid urban change, the city is actively improving the Casco Viejo, its historic colonial heart. After the pirate Henry Morgan plundered the original settlement, this walled seafront area grew to be filled with mansions and churches of great distinction. It's all still there.
Colon lies on the stunning Caribbean coast of Panama, where unparalleled beaches and lush tropical scenery are de rigueur. In nearby Portobello, discover the ruins of Spanish forts, watch the colorful yachts sailing in the bay or hunt for treasures in the local markets. Travel to the Gatun Locks for a bird's eye view of the immense ships passing through the Panama Canal.  
Day 9 - January 12, 2023
Puerto Limon (San Jose), Costa Rico
Puerto Limón probably isn't the most bustling port you've ever visited, but don't be put off by its facade; like most coastal towns in Costa Rica, it is a perfect base from which to explore an attraction- and activity-rich region that can fulfill a variety of interests. You're never far from a rain forest or outdoor adventure in Costa Rica, and there are lots of day trips from Puerto Limón that allow you to pack in an adrenaline rush or a few more ticks on your birding list within just a few hours. There are treetops for zip lining and rushing rivers for whitewater rafting if you're a more active traveler, and animal lovers can take sanctuary tours in and around Puerto Limón. Of course, when it comes time to eat, there's plenty of the national favorite, gallo pinto (rice and beans), and as with many port towns, there is lots of fresh seafood and even an upscale Italian restaurant. As for shopping, you can find arts and crafts that were made locally as well as edible treats like handmade chocolate. 
Day 10 & 11 - January 13 & 14, 2023
Days at Sea
Day 3 & 4 of the Quilt Program at Sea, with K&A Quilt Studio, for the quilters on board. Today K&A have chosen a Loving My Deck Chair Lap Quilt, Chain Chain Chain by Strip Club Pattern.
If you are not a quilter you can take in more of the activities the ship has to offer or find a comfortable lounge chair ad relax and take in the view. Relax and enjoy the last two days of this wonderful cruise.
Day 12 - January 15, 2023
Today we have to disembark the ship after having a fun-filled cruise and making new friends.
Prices start at the following based on double occupancy until supplies last;
Inside cabins -$2311.26
Veranda - $3111.26
Suites - $5686.76  
AFTER OCTOBER 6, 2022, PRICE IS BASED ON AVAILABILITY
Priced in CND Dollars 
Price includes taxes.
Price Includes
Cruise, meals while on the cruise ship and a Meet & Greet with all your fellow Cruisers.
Price does not include quilting retreat on board, gratuities, drinks, shore excursions, upgrades to specialty restaurants or personal items.
K&A Quilt Program At Sea
The cost of the Quilt Program is $420.00. The kits and patterns are extra.
K&A Quilt Studio is excited to announce that they have just signed Patti Carey, from Northcott Fabrics to join Mary Lamb as the instructors for the Quilt Program. these ladies have put a great program together for the cruise! The full program will be announced soon.
Quilt Program must be booked and paid for through K&A Quilt Studio.                                                                                                                                                                          Click below for the list of classes.                                                                                                                                                                                                                                                      Quilt Classes on Cruise
K&A Quilt Studio Contact Info;
90 Samnah Crescent
Ingersoll, ON N5C 3J7
P: (519) 425-4141
Holland America has an amazing Cancelation Protection Plan where you can cancel for any reason. This gives great peace of mind in these uncertain times.
Book Now!                                                                                                        To reserve your place, click on Book Now or contact Edna:
Edna's Travel/TravelOnly                                                                                                         Phone: 519-468-0129                                                                                                                Email: ecarroll@travelonly.net
TravelOnly Corporate Office                                                                                                      325A West St                                                                                                                              Brantford, ON, N3R 3V6                                                                                                           Phone: 519-752-4363
www.travelonly.com                                                                                                                    TICO #04316071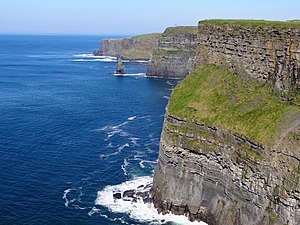 Itinerary May 7-19, 2023
Day 1, Saturday, May 6
Depart Canada
Day 2, Sunday, May 7
We will be met by our transfer to take us to our local guide Odile Murphy. Odile Murphy is an experienced, friendly and knowledgeable Irish Guide. Odile has been a certified guide for many years. Odile has an Honours Degree in History & Archaeology as well as an excellent knowledge of Literature, Ars, Irish History and Architecture. We will check into our hotel Barberstown Castle late in the afternoon.
Day 3, Monday, May 8
Today we will meet Odile for walking tour of Dublin. This morning we'll take a walking tour through Dublin, learnig about its rich history from the days of Viking raids to the hard centuries of British rule to the proud and progressive city of today. We'll end our tour at Trinity College for an illuminating look at the remarkable Book of Kells, a creative jolt that helped pull Europe out of the Dark Ages.
This afternoon will be on your own to discover the city of Dublin. 
1. A great way to see the city and get your bearings is to take the Dublin Bus City Tour. This is a Hop-On Hop-Off tour so you can visit some of the 20 landmarks en route.
2. The Guinness Storehouse is a must for any visitor to Dublin. Learn all about what goes into the black stuff and about Arthur Guinness himself. This visit concludes in the Gravity Bar at the top of the storehouse giving you wonderful views of the skyline of Dublin whilst you enjoy your complimentary Guinness.
3. For a more sober outing, Christ Church Cathedral founded c.1030 is well worth a visit. The Cathedral and Treasures of Christ Church exhibition reflect 1,000 years of history, architecture and worship. Try and take in a Choral Service whilst you are there to get a true feeling for the place.
4. A trip to Dublin wouldn't be complete without a visit to one of its many theatres. The Irish National Theatre, The Abbey, has played an important part in the development of modern drama. Over the years the plays of JM Synge, Sean O'Casey and WB Yeats have made it world-famous.
5. The award-winning Dublinia and Viking World exhibitions allow the visitor to experience the turbulent history of early Dublin. Using audiovisual, graphics and interactivity, the lifestyles of Vikings and medieval Dubliners are brought to life to provide a fascinating glimpse of the past.
6. Trinity College, the oldest and most prestigious university in Ireland is famous for its graduates such as Wilde and Beckett and home to the world-famous Book of Kells a wonderful illuminated manuscript of the gospels and the Long Room, the largest single-chamber library in the world containing 200,000 of the library's
oldest books.
7. For the music lover, a visit to the National Concert Hall is a must. Both evening concerts and lunchtime concerts take place here. See the best of Irish and international musicians perform here. There are programs to suit all tastes, Classical, Jazz, Opera, Ballet, World, Traditional, Latin and Musicals together with
an extensive range of workshops and talks.
8. Bring out the inner artist in you and savor almost 2,000 artworks ranging from the Impressionist masterpieces of Manet, Monet, Renoir and Degas to works by leading national and international contemporary artists at the Hugh Lane Gallery. This Gallery houses one of Ireland's foremost collections of modern &
contemporary art alongside regular lectures, concerts, tours and art workshops. (B, D)
Day 4, Tuesday, May 9
Today we visit the Cushendale Woollen Mills is one of the few remaining Irish woolen mill creating quality authentic textiles from the fleece of Irish sheep.
After we leave the Woolen Mill we will visit the Seven Churches of Glendalough which have been a point of pilgrimage down through the years. St Kevin lived here as a hermit in isolation. However, his fame and holiness attracted so many followers that it was necessary to construct a monastic city to house them. Much of this still remains including, the cathedral, the round tower and a church which became know as St Kevin's Kitchen. 
Enjoy a handweavers demonstration at Avoca Handweavers. Established in 1723, Avoca Handweavers is a family-owned craft design company that had its beginnings at the Old Mill at Avoca. There, the weavers produced the beautifully woven fabrics which became Avoca's hallmark.
This afternoon we will check into the Trident Hotel which will be our home for the next two nights.
Perched on the edge of Kinsale Harbour and positioned at the gateway to the famous Wild Atlantic Way, this is 4-star luxury surrounded by the beauty of a unique location.
Village of Kindsale: This colourful, vibrant and stunningly-picturesque fishing village is packed with unique things to do, see and enjoy. (B)
Day 5, Wednesday, May 10
Today we will start our day with a visit to Cobh. At one time Cobh was a point of embarkation for countless emigrants leaving for North America, and other far off lands and learn about the town's links with the 'Titanic'.
Later in the morning we will arrive in Cork, Ireland's second city and meet a representative from Ireland Quilting Guilde.
We will arrive back in Kinsale so you will have free time in Kinsale. Set around a harbour, with narrow streets full of small, eye catching shops. (B, D)
Day 6, Thursday, May 11
Today we will enjoy the scenic Killarney National Park.
Built nearly six hundred years ago by one of Ireland's greatest chieftans, Cormac MacCarthy, and has been attracting attention ever since. Over the last few hundred years, millions have flocked to Blarney making it a world landmark and one of Ireland's greatest treasures.
Now that might have something to do with the Blarney Stone, the legendary Stone of Eloquence, found at the top of our tower. Kiss it and you'll never again be lost for words.
The Dungeon: Beneath the tower house that we know as Blarney Castle, you will find a labyrinth of underground passages and chambers, dating from different periods in the Castle history. Now mostly inaccessible, many are beyond the most intrepid explorer. If you do venture within, you will find the chambers
of what is believed to have been the Castle prison. If you climb the left-hand of the parallel staircases, you will find the chamber that some say housed the Castle well. The well's vital role in times of siege would have ensured it considerable protection. A nowadays-inaccessible tunnel, over 16 metres long, connects this
chamber to a small cave in the rock - possibly an attempt to force entry by a besieging army.
The Battlements View: There's not just the Stone to make the climb to the battlements worthwhile. In 1837, Samuel Lewis wrote that the top of the Castle commands a very fine view over a rich undulating tract... on the east is the Comane bog, many years since an impenetrable wilderness, and the last receptacle for wolves in this part of the country: that river, which takes its name from its serpentine course, flows through the bog and joins the river Blarney under the walls of the castle...
Later this afternoon we will enjoy Killarney Jaunting Cars - Tangney Tours.
Guided tour with a traditional Jarvey Guide full of Irish whit.
Visit areas where no motor traffic is permitted in the Killarney National Park.
View the magnificent St. Mary's Cathedral on route.
Capture a picture of one of the few remaining Thatched Cottages in Ireland.
Observe Ireland's last herd of native Red Deer.
Awe-inspiring views of Ireland's highest Mountain Range, the MacGillycuddy Reeks.
Tonight we will enjoy the award winning Celtic Steps Show. This show brings together the raw talent of popular Irish dance with the authenticity of traditional Irish music. The show aims to provide a magical evening for its guests, taking them on a journey through the nation's colourful past and history to present day Ireland through the language of music, song and of course, dance. 
Later this afternoon we visit Ross Castle in Kilarney.
We check into the beautiful Brehon Hotel & Angsana Spa. (B)
Day 7, Friday,  May 12
Today we will be enjoying the coastal contours of the Ring of Kerry, one of Ireland's most famous scenic drives. This is more than just a driving route, it's an incredible circuit of the Iveragh Peninsula with the warmest of welcomes and spectacular views.
Drive out from Killarney on the N70 and on your way, stop at Ladies Views or unbeatable scenery. The view is so called as it was greatly admired by Queen Victoria's ladies-in-waiting when they visited Kerry in the 1800s. Park the car and relax over a panoramic picnic with views of the Killarney Valley.
Make your way to beautiful Kenmare where the colourful buildings and upbeat locals are full of character. Visit the lovely village of Sneem, sometimes overlooked in favour of other towns but it's worth stopping here to enjoy its local charm.
Discover the Kerry Geopark in this pretty Irish village and learn about Ireland's unique geology and ancient culture.
Travelling further west along the coast, discover Ballingkellings, a village in the Gaeltacht of Uíbh Ráthach Iveragh). This is one of the predominantly Irish speaking areas of Ireland. Head to Ba na Scealg Ballinskelligs Beach) and breathe in fresh sea air on this fine stretch of sand.
To the right of the entrance is the ancient McCarthy Tower known locally as Ballinskelligs Castle, easily accessible at low tide. It was built in the early 16
the century by the McCarthys, the Chieftains in Cork and Kerry. Folklore suggests that the tower served to protect the Irish coast from pirates.
This afternoon we will visit the Sewing Shed. Meet with Nikki Foley who is a quilt judge, author, designer and creator. Owner of The Sewing Shed quilting
shop on the rugged south west coast of Ireland, she has plenty of inspiration to create projects for her students and visitors. Nikki has been sewing, making quilts, creating textile art and writing books for the last twenty years, and began long arm quilting 10 years ago. Nikki has a love for Celtic design and Irish Mythology
and is always using Celtic inspiration in her patterns, kits and projects. 
Tonight we will enjoy a supper at a local pub. (B, D)
Day 8, Saturday, May 13
Dubbed "Ireland's prettiest village" this picturesque enclave in the south-west is dotted with traditional thatched cottages from 1820s, stone buildings and medieval monasteries. Dating back to the 13th century when it was founded along the River Maigue, the village showcases several sites of historical and architectural
interest, including Trinitarian Priory, Desmond Castle and the Franciscan Friary, built in 1464.
Today we will visit the Burren Smokehouse where we will enjoy lunch.
When you head to the Cliffs of Moher, you're coming for one of two things: the staggering height of the rock face, and the stunning views from the top.
Soaring to 214m, the striated stone reaches its long fingers southward to counties Cork and Kerry beyond, and from O'Brien's Tower those with a keen eye may even be able to spot the Aran Islands to the north.
Late this afternoon we will check into the Galmont. Ideally situated on the waterfront on Lough Atalia Road, the The Galmont Hotel & Spa Galway is a modern state-of-the-art hotel. The magnificent glass atrium foyer reflects the high standard of design and commitment to style and service which is carried throughout the accommodation and facilities available. (B, L)
Day 9, Sunday, May 14
This morning we will enjoy a Galway Food Tour. Situated on a narrow neck of land between Galway Bay and Lough Corrib. Galway is the only maritime city in
`irela`nd that acyually looks out across the sea and has a tang of salt about it.
Despite being one of the fastest growing cities in Eurpoe, it has a billage atmosphere and is famous for its summer festivals, thriving art
scene, historic pubs and painted shopfronts. It is also where Irish is most widely spoken a reminder that it is the cultural hub for the broader hinterland of Connermare an the Aran Islands, Ireland's largest Gaeltacht. From Eyre Square, the main drag leas to the riverfron, a Conticental style promenade where locals come to enjoy the "crai" fun. (B, D)
Day 10, Monday, May 15
Today we enjoy a leisurely drive in the Connemara National Park. 
A visit to Connemara would not be complete without a visit to the magnificent Kylemore Abbey & Gardens – the jewel in the Connemara crown! Read on to find out why Kylemore Abbey & Garden is one of the top attractions in Galway.
Kylemore Abbey & Garden has a superb picturesque lakeside setting, surrounded by woodlands at the foot of the Twelve Bens Mountains. The Abbey (which looks more like a charming fairy tale castle) is said to be one of the most admired buildings in Ireland, with its very impressive neo-gothic style exterior standing out against the backdrop of wild and beautiful Connemara.
Today we will be visiting Green Acres Quilts. Irish Quilting is a rewarding experience for all ages. Green Acres Quilts is for new quilters as well as more experienced quilt makers. Stephanie Green shares her craft of quilt making with people with a love of quilts. Whatever your background, interests or skill level, if you love quilts then you will almost certainly find something here at Green Acres
Quilts.
This afternoon we check into The Lodge at Harvey's Point. (B)
Day 11, Tuesday, May 16
Today we will be visiting The Free Derry Museum. Museum of Free Derry is a must – you will meet descendants of people who were killed in one of the defining
events of what was known in Ireland as "The Troubles" (B, D)
Day 12, Wednesday May 17
Belfast, a former industrial powerhouse with a troubled past, Belfast has pulled off a remarkable transformation into a hip town.
These days the Titanic is so closely connected to Belfast's identity that there is a whole neighbourhood named after the ill-fated liner: the shipyards where Titanic was constructed are now part of the Titanic Quarter. At its centre is the stunning, star-shaped edifice of Titanic Belfast, a state-of-the-art multimedia museum that has become the city's number-one tourist draw. Around it are several other sites with links to the Titanic, and the former drawing offices of the Harland & Wolff shipping company are now part of the Titanic. No visitor to Belfast leaves without learning something about that ship.
We will visit the famous Titanic Museum today.
Arts & Culture: Belfast's rich cultural heritage is reflected in its vibrant theatres, world-class musicians and thriving visual arts scene. In the Cathedral Quarter, international and local street artists have brightened the neighbourhood with their thought-provoking work, while the quarter's Black Box and MAC arts centres foster local talent. The annual Belfast Film Festival showcases the work of local and international film makers and the Belfast International Arts Festival is one of the largest arts festivals in the UK and Ireland. In May, the Cathedral Quarter Arts Festival brings music, drama, poetry, street theatre and art to the neighbourhood.
We will visit the Peace Wall with a local guide giving us the history.
This afternoon we will check into the Titanic Hotel Belfast. (B)
Day 13, Thursday May 18
Today we enjoy along the Antrim Coast Road to the magnificent UNESCO World Heritage Giant Causeway
This afternoon we will be visiting Glenshane County where we will be vising Jamese McCloy is a fourth-generation shepherd who wants to show people sheep farming and particularly his highly trained team of working sheepdogs. He invites visitors to his farm set deep on the beautiful, little-known landscape of the Sperrin Mountains.
In Jamese McCloy's barn in the rolling Sperrin Hills, the only sound you'll hear at sheep shearing time - aside from gentle birdsong - is the snip-snip of his blades as they work their way through the fluffiest fleece imaginable.
Like his father and grandfather before him, Jamese has been tending to sheep for
decades, with the help of highly trained border collies, Moss, Jess & Tess (themselves from a long line of workers).
Visit the Glenshane Country Farm and discover how, with a whistle, a whisper, or a
gesture, Jamese can direct the dogs to herd hundreds of remarkably well-behaved
sheep.
Join Jamese as he shares his tales of farming life, and points out Slemish Mountain, where Saint Patrick, Ireland's patron saint, worked as a shepherd 1,500 years ago.
Help him open gates to lead the flock into traditional wooden pens, make friends with Moss, Jess and Tess, breathe in the scent of fresh hay, and reach over to touch the sheep, their springy wool like candy floss.
Take shelter in the viewing gallery, built with Donegal quartz stone and timber, and marvel at the panoramic views of Slieve Gallion mountain, Lough Neagh and the Mourne mountain range.
Sheepdogs at work & shearing the wool - experience Sheepdogs at work, a chance to see rare breeds of sheep, witness a live shearing demonstration. 
Tonight we enjoy a farewell dinner before we say good bye to this beautiful country. (B, D)
Day 14, Friday May 19
After breakfast we will travel back to Dublin for our flights home. (B)
Amazing Tour Price
Double Occupancy - $5920.00 per person
Single - $7402.00
| | |
| --- | --- |
| Time of Booking |  $750.00 |
| December 15, 2022 | $1500.00 |
| Final payment March 1, 2023 | Balance |
|   |   |
If paying by e-transfer please contact Edna for instructions.
I must have 15 People by January 1, 2023. If I don't then everyone will receive a full refund.
Inclusions
13 nights' accommodation with breakfast
• All ground transportation
• Entrances into everything in the itinerary                                                                         • Breakfasts, 1 Lunch and 7 dinners                                                                                   Hotels can be changed by Edna's Travel, if not available to same level of service.
Not Included  
International flights, personal purchases, Insurance, any meals not mentioned in itinerary
Tour Escorted by Edna Carroll
Itinerary
Day 1, June 4, 2023
We will depart London early in the morning stopping in Woodstock, Mississauga and Cornwall picking up quilters along the route.
Tonight we will spend the night in Montreal.
Day 2, June 5, 2023
Today we will arrive in Quebec City in Time for lunch and tour of Old Quebec City with a local guide. We will learn about the 400 year old history in this UNESCO World Heritage Site. Quebec City is the only fortified city north of Mexico.
There will be time for wandering these streets with a European Flair on your own later in the afternoon.
Tonight we will be staying at the Hilton Quebec. (B)
Day 3, June 6, 2023
Today we will make out way to Moncton New Brunswick.
Tonight we will be staying at a local Hotel in Moncton. (B)
Day 4, June 7, 2023
This morning we will arrive in Halifax where we will be joined by our local guide for a tour of Halifax. We learn about the history of Halifax and take in all the sites that this beautiful city has to offer.
Later this afternoon we will check into the Hotel Halifax, our home for the next 3 nights. A downtown accommodation in the heart of the city, Hotel Halifax features stunning views enabling guests to enjoy the bustling activity of the Halifax Harbour from the comfort of their own guest room.  (B,)
Day 5, June 8, 2023
Today we will spend our day at Quilt Canada. The coach will drop us off in time for the opening then pick us up late in the afternoon. This is your day to view the many award winning quilts and shop at the vendors.
For anyone on the tour who is not a quilter there will be an optional tour with Russ Carroll. 
(B)
Day 6, June 9, 2023
Today we will visit Lunenburg, one of only two urban communities in North America designated as a UNESCO World Heritage site. Seventy percent of the original colonial buildings from the 18th and 19th centuries continue to greet visitors with their colourful façades. This is also the home of the Bluenose!
There will be time to spend on the waterfront and visit the artisan shops.
Later we will stop at Mahone Bay and Peggy's Cove. A trip to Nova Scotia wouldn't be complete without seeing the iconic light house at Peggy's Cove. (B,L)
Day 7, June 10, 2023
Today we will travel to Baddeck. On the way we will visit and tour the Fortress of Louisbourg,  The Fortress of Louisbourg is a National Historic Site and the location of a one-quarter partial reconstruction of an 18th-century French fortress at Louisbourg on Cape Breton Island, Nova Scotia. Its two sieges, especially that of 1758, were turning points in the Anglo-French struggle for what today is Canada.
We will check into our hotel Inverary Resort, where we will enjoy a group dinner tonight. (B,D)
Day 8, June 11, 2023
Today we will discover the beauty of the Cabot Trail, as we drive this scenic road as see all the beauty Cape Breton has to offer.
We will be stopping in Cheticamp, where we will enjoy lunch at the Doryman Pub & Bar and be entertained with local entertainment. (B,L)
Day 9, June 12, 2023
Today we will check out of this beautiful resort and make our way to Charlottetown PEI. We will cross The Confederation Bridge is a world engineering feat. It connects Prince Edward Island to the mainland over the Northumberland Strait in the southern part of the Gulf of Saint Lawrence. At 12.9 kilometres or 8 miles long it is longest bridge in the world over ice-covered waters.
Late in the afternoon we will check into the Quality Inn in downtown Charlottetown. (B)
Day 10, June 13, 2023
Today we will have a tour of Charlottetown, the capital of PEI and home of Confederation. We will learn of the history and sites of this great city.  Later in the day we will visit the home of Ann of Green Gables the setting of Lucy Maud Montgomery's novels. (B, L)
Day 11, June 14, 2023
Today we will start our journey home.
We will be checking into Hotel Centreville in Montmagny  (B,D)
Day 12, June 15, 2023
Today we will enjoy a tour of Old Montreal. Dating to the 17th century, Old Montreal's narrow cobblestone streets are full of lively plazas and charming shops and cafes. Landmarks include the Notre-Dame Basilica, a soaring Gothic Revival church, and the Pointe-à-Callière museum with city archeological ruins. Home of the World's Fair in 1967,
Later in the afternoon we will check into our hotel. (B)
Day 13, June 16, 2023
We will arrive home today. (B)
Price Is based on per person HST is included
Double - $3601.00
Triple - $3128.00
Quad - $2882.00
Single - $5141.00
Deposit of $400.00 is required at time of booking.
Full payment is February 15, 2023
If paying by e-transfer please contact Edna for instructions.
Included in Price
Transportation, Lodging, 
Local tours with local tour guide in Halifax, Lunenburg & Peggy's Cove, Fortress of Louisbourg, Cabot Trail, Charlottetown and Quebec City
3 Lunches, 2 Dinners
Entrance to all venues mentioned in Itinerary including Quilt Canada
Gratuities for meals included in itinerary
Not Included in Price
Gratuities to guides, personal purchases, meals not mentioned in the itinerary.
Trip Cancellation Insurance & Medical Insurance
Insurance
I highly recomend purchasing Trip Cancellation and out of Province Medical Insurance. All funds are non-refundble unless the tour is cancelled by Edna's Travel.